Kamineni College of Nursing, Hyderabad
– About the college
The Kamineni College of Nursing located in Vasai, Hyderabad is a well known college in the capital of Telengana. Since the institution provides high quality of education, it is probably considered to be the best college of nursing in the city. The college is part of the Kamineni Hospitals Ltd in Hyderabad. Kamineni College of Nursing runs nursing courses at the Bachelors level with 50 seats. This institute is one of the many in Hyderabad that provides excellent training to the students. The Kamineni College of Nursing, Hyderabad also has a sister organization. This is called as the KIMS College of nursing. The KIMS College of nursing is located at Sreepuram, Narketpally, Nalgonda Dist of Telangana state.
Year of BSc Nursing started : 2001
Year of MSc Nursing started : 2008
Year of Post Basic Nursing started : 2011
-Affiliations to the councils
The college is recognized by INC, New Delhi, AP Nursing Council, Hyderabad and affiliated to Dr. NTR University of Health Sciences, Vijayawada, Andhra Pradesh
University affiliation : The institution is affiliated to Dr. NTR University of Health Sciences, Vijayawada, Andhra Pradesh
-College address with Pincode / Phone / Fax/ Email
Kamineni College of Nursing,
KHL Campus, L.B.Nagar,
Hyderabad- 500068
Telephone & Fax Number – +9140 3987 9999
Email: kamineni.con@kamineninursing.org
– Management
Kamineni Education Society and Kamineni Hospitals Ltd, Hyderabad
Hospital attachments for practice
Kamineni Hospitals Ltd, Hyderabad
Osmania General Hospital
Niloufer Hospital
Govt. Maternity Hospital.
Institute of Mental Health.
MNJ cancer Hospital.
Sarojini Devi Eye hospital.
Govt. ENT Hospital.
Govt. TB and Chest Hospital.
Affiliated hospitals for M.Sc Nursing programme:
Asha Hospitals
Rainbow Hospitals
Orchids Hospitals
Sairam Hospitals.
Community clinical experience for B Sc. & M Sc. (N) Programmes.
Urban Health centre, Mansoorabad, Hyderabad.
Primary health centre, Uppal, Hyderabad.
Rural health centre, Cherlapally, Nalagonda.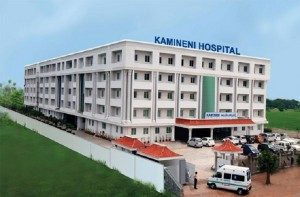 – Courses available
B.Sc (Nursing) – 4 years
M.Sc (Nursing) – 2 years
Post Basic Diploma in Nursing – 2 years
– Intake in Each course
B.Sc (Nursing) – 50 seats
M.Sc (Nursing) – 2 years
Branches of M.Sc (Nursing) available:
Medical Surgical Nursing (All sub-specialities as recognised by INC)
Child Health (Paediatric) Nursing
Community Health Nursing
Psychiatric (Mental Health) Nursing
Obstetrics and Gynaecological Nursing
Post Basic Diploma in Nursing – 2 years
Operation Room Nursing.
Cardiothoracic Nursing.
Oncology Nursing.
Critical care Nursing.
– Eligibility criteria
Eligibility for B.Sc. (Nursing)
1. Only medically fit candidates are admitted.
2. 50% of marks taken together in Botany, Zoology, Physics, Chemistry and English
3. Should have completed 17 years of age as on 31st December of the admission year. Age should be less than 35 years.
Note: For SC/ ST candidates, the upper age limit is relaxed by 3 years. Also, the marks obtained can be 40% instead of 50%.
Eligibility for M.Sc. (Nursing)
1. Age: Less than 45 years and 48 years for SC/ST candidates
2. BSc Nursing qualified from INC recognized institutes.
3. Pass in entrance exam conducted by the institution.
4. Registered with respective state nursing council
5. At least 1 year experience
6. Physically and mentally fit.
Eligibility for Post Basic Diploma in Nursing
Be a registered nurse (R.N & R.M) or equivalent.
Possess a minimum of one year experience as a staff nurse.
Nurses from other countries must obtain an equivalent certificate from INC before admission.
Be physically fit.
Important Dates for admission Process
Directly contact the institution for all Management quota seats.
For admission through the government quota, contact the government office, during July of the year of admission.
Scholarships & Education Loan Facility :
The college provides scholarships for merit students.
Educational Loan Facility
The institution provides bonafide certificates to students with which the candidate can apply for loan from banks.
– Special information – Library / Labs at Kamineni College of Nursing
The Kamineni College of Nursing is considered one of the Top Nursing College in Hyderabad. This is mainly because of the following facilities and excellent faculty.
Buildings: Spacious ventilated building for Nursing Education ensures conducive teaching – learning environment. There is also availability of latest educational technology.
Laboratories: There are separate large laboratories for Nursing Foundation, Pre-clinical, Medical Surgical Nursing, Paediatric Nursing, Obstetrics and Gynaecology Nursing, Community Health Nursing, computer, A.V. aids and Nutrition.
Lecture halls: Adequate lecture halls are available.
– Hostel / Lodging facilities
The hostel facility is available only for girls who desire to stay there. Mess facility is available in the hostel.
Other unique features of the Kamineni College of Nursing
Free annual health check up
Comfortable accommodation with mess facilities
Health insurance during the academic period
User friendly library
Internet facilities
Sports & recreational activities
Guidance and counselling by experts
Continuing Nursing Education programme
Career orientation programme
Co-curricular and extra-curricular activities
The availability of these facilities makes the Kamineni College of Nursing to shine as one of the Top Nursing Colleges in Hyderabad. If you would like to obtain admission in the Kamineni College of Nursing, you can contact us. We will also be able to guide you through the process of admission in this college of nursing as well as other colleges in Hyderabad. For more details on the college or on any other College of nursing in Hyderabad / Telengana / Andhra Pradesh, please contact us. You can also check out the list of nursing colleges in Telengana.