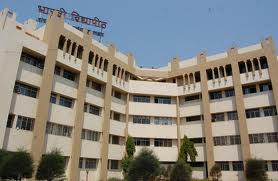 College of Nursing, Bharati Vidyapeeth, Navi Mumbai
About the college
The College of Nursing, Bharati Vidyapeeth, Navi Mumbai has been established in the year 2009. This is a college attached to the deemed university Bharati Vidyapeeth. It is a very popular college in Navi Mumbai and students from various parts of India and also from other parts of the world join the course. The college is also approved by the Indian nursing Council and Maharashtra Nursing Council. There are a lot of excellent facilities for all the students.
Affiliated university
Indian nursing Council and Maharashtra Nursing Council
College address with Pincode / Phone / Fax/ Email
Bharati Vidyapeeth, College of Nursing.
Sector-7, Rain Tree Marg, Belpada Complex,
Opp. Kharghar Railway station,
Navi Mumbai – 400 614
Maharashtra.
Phone: 022-27565956.
Fax : 022-27565956.
Email: principalbvnursing@gmail.com
Management
Deemed University
Hospital attachments for practice
392 bedded Navi Mumbai Municipal Corporation hospital at Washi.
Other reputed local hospitals in Mumbai.
Bharati hospital
Courses available
B.Sc (Nursing) – 4 years + 1 year compulsory Internship in Bharati hospital (with stipend)
P.B.BSc (Nursing) – 2 years
– Intake in Each course
B.Sc (Nursing) – 50 seats
Eligibility criteria
Eligibility for B.Sc. (Nursing)
a) Your age should not be less than 17 years, by end of year of admission.
b) You should be Medically fit (Both physically and mentally fit)
c) Pass in 10+2 or equivalent with English, Physics, Chemistry, Biology or Physics, Chemistry, Botany & Zoology, with 45% marks in each subject
d) Should be an Indian national
Eligibility for Post basic BSc(N)
Pass in DGNM course with required experience.
Application process
Admission is through management quota as well as regular mode. The management quota seats can be obtained on payment of management fees. The regular admission is through the entrance exam that is held by the institute.
Important dates:
Last date for submitting applications: First week of June
Common Entrance exam : Middle of June
Results: Last week of June
Registration of students: First week of July
Admission is based on
1. Entrance test
2. Medical fitness
Test guidance / Selection Process for all courses
Selection of candidates is only based on a written test and interview. The entrance exam will be held with multiple choice Questions. The questions will be based on the qualifying exam. For example, for DGNM and for BSc(N) courses, the questions will be from the 12th standard Physics/Chemistry/Biology/ General knowledge/ English subjects.
For students under management quota, there will not be any entrance test. You can get the seats under this quota on a first come first served basis. Nursing seats without entrance tests are available under management quota.
Fee Structure
BSc(Nursing) – Rs.55,000 per annum(Regular)., Rs.70,000 under management quota., $2900 for NRI's
PB B.Sc(Nursing) – Rs.58,000 per annum(Regular)., Rs.68,000 under management quota., $2100 for NRI's
Hostel fees: Rs.44,000 per year (includes Rs.5,000 refundable deposit)
Special information – Library / Labs
Library: The Library has an area of 1546 square feet with more than 1600 books. There are 25 books per student in the library. There are various national and international journals and the library has also subscribed to e journals. Internet facilities are also available along with various CDs for interactive learning.
Labs: The laboratories for Anatomy, Nutrition, Fundamentals of Nursing Maternal Nursing, Child Health Nursing, Community Health Nursing, Maternity Nursing, are available in the institution.
Faculty
There are 15 full time faculty in the college. This includes 6 professors and 9 clinical instructors / tutors. The faculty are excellent and provide adequate coaching and soft skills to the students. All the faculty are well qualified and excellent teachers.
Hostel / Lodging facilities
The hostel facility is excellent with accommodation available for 240 girls and 310 boys in separate facilities. The recreational facilities in the hostels provide excellent chance for the students to learn in a relaxed environment. Other than the indoor games available, you will find facilities for outdoor games too. Mess facilities with vegetarian and non vegetarian food are also available for you if you join this college.
Facilities For Students
Well furnished Infrastructure in college
Well equipped library with national and international books & journals
Computers, LCD and OHP for topic presentation as well as for teaching purpose
Conference hall for conducting SNA Meetings
Sports items for playing sports (both Indoor and Outdoor)
Playground facility common for all Campus students
Separate Toilet for male and female students
Purified Drinking water Facility
Bus and train fare concession
Education tour to different states to Learn administration
Provision of hostel for Girl and boys .
Quality Clinical experience at various reputed hospitals
Placements
All the graduates are placed in well paying jobs. Some of them are recruited into the local hospitals in Mumbai and others are recruited in various hospitals in and around the country.