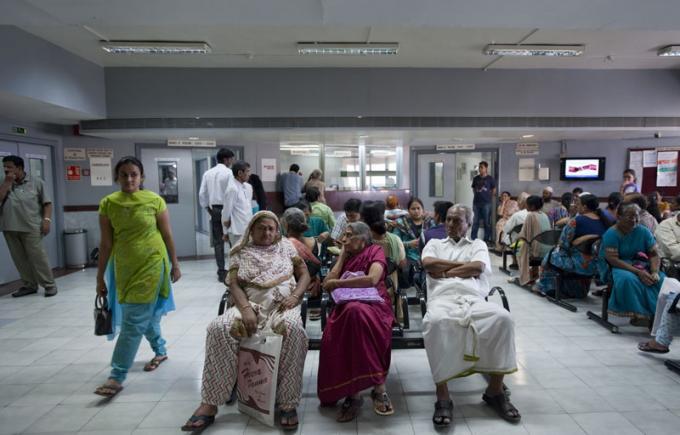 College of Nursing, P.D. Hinduja Hospital Mumbai
– About the college
P.D. Hinduja Trust runs various educational courses and the College of Nursing is also one of the colleges that is being run by the Trust. The nursing college has a BSc course as well as a Masters programme for female nursing candidates. Opportunities for a nurse are varied and limitless in this college. A new professional nurse may choose between clinical practice, education, research, management, administration, occupational and industrial nursing.
-Affiliated university
Maharashtra University of Health Sciences
Recognized by the Indian Nursing Council
-College address with Pincode / Phone / Fax/ Email
P. D. Hinduja Hospital and MRC College of Nursing,
Emerald Court, D-Wing,
Kondivita Lane, Marol Pipe Line,
Andheri (E),
Mumbai-400059
Phone: 022-28269159 / 28269160 Extn: 409
Email: nursingedu@hindujahospital.com
– Management
PD . Hinduja Trust
Hospital attachments for practice
PD . Hinduja Hospital, a multi-speciality hospital
– Courses available
B.Sc (Nursing) – 4 years
M.Sc (Nursing) – 2 years
– Intake in Each course
B.Sc (Nursing) – 30 seats
M.Sc (Nursing) – 24 seats
The following are the Branches of study for M.Sc. (N) Degree
• Medical/Surgical Nursing – 12 seats
• Obs/Gynaec Nursing – 4 seats
• Community Health Nursing – 4 seats
• Child Health Nursing (Pediatric) – 4 seats
– Eligibility criteria
Eligibility for B.Sc. (Nursing)
Admission is through the AMUPMDC ( Association of Managements of Unaided Private Medical Dental Colleges).
a) not less than 17 years as by day of admission.
b) Medically fit (Both physically and mentally fit)
c) Pass in 10+2 or equivalent with English, Physics, Chemistry, Biology or Physics, Chemistry, Botany & Zoology, with 50% marks in each subject
d) Pass in qualifying exam in first attempt.
Eligibility for M.Sc. (Nursing)
Pass in BSc(N) / Post basic BSc(N) is the first criteria for eligibility.
Admission is through the AMUPMDC ( Association of Managements of Unaided Private Medical Dental Colleges). Some years, the admission may be direct.
Application process
Admission is through the AMUPMDC ( Association of Managements of Unaided Private Medical Dental Colleges). The application for the course can be obtained from the P.D Hinduja hospital or can be directly downloaded from the website of the institution.
Important dates:
Last date for submitting applications: Middle of April
Common Entrance exam : Middle of May
Admission is based on
1. Entrance test
2. Medical fitness
– Test guidance / Selection Process for all courses
The selection of candidates is only based on a written test and interview that will be held with multiple choice Questions. The questions will be based on the qualifying exam. For example, for DGNM and for BSc(N) courses, the questions will be from the 12th standard Physics/Chemistry/Biology/ General knowledge/ English subjects.
Fee Structure
BSc(Nursing) fees is about Rs.70,000 per annum
MSc(Nursing) fees is about Rs.1,00,000 per annum
Hostel fees is about Rs.44,000 per year (includes Rs.5,000 refundable deposit)
Scholarships
One of the unique features of College of Nursing is to acknowledge the "Best Outgoing Student" with gold medal in memory of Lalita Girdhar Hinduja.
A trophy is given for the "Best Clinical Nurse".
Meritorious students receive 100% scholarship from Hinduja management.
Students are also encouraged to avail other scholarships such as Sir Ratan Tata Scholarship.
– Special information – Library / Labs
Library: The Library comprises of Reading Rooms, Journal Section, facilities for Photocopying, Data processing and Internet browsing. There are over 2000 books and journals in the library. Students also have access to the Central Library at PDHNH Library, Mahim. The college has membership with British Council.
Labs: Laboratories for Anatomy, Nutrition, Fundamentals of Nursing Maternal Nursing and Child Health Nursing are available. You will also find Community Health Nursing and Maternity Nursing laboratories in the institution.
– Faculty
There are 21 full time faculty in the college. This includes 4 professors, 6 lecturers and 11 clinical instructors / tutors. The faculty are excellent and provide adequate coaching and soft skills to the students.
– Hostel / Lodging facilities
The hostel facility is available to candidates who desire to stay there. Hostel is not compulsory for students.
You may not interested in staying in the hostel. If so, there are flats on shared accommodation as well as working women's hostel are available in Mumbai.
Achievements:
There are many achievements by this institution. Some of these achievements include those like being one of the very few colleges with 100% success in all classes. The institution also proudly boasts of many Distinctions and University ranks.
– Placements
All the graduates are placed in well paying jobs. Some of them are recruited into the Hinduja hospital and others are recruited in various hospitals in and around Mumbai.