Green Healthcare Technology
Going green is important for every type of business situation. However turning to green healthcare technology can be a huge task. Thanks to the efforts of many the changes have been slowly occurring. There are several ways that the industry is making greener choices that affect us and our world.
Paperwork Reduction
No one can deny the mountains of paperwork that have been typical of each medical case. The medical world has begun making the necessary changes to switch from these antiquated record keeping practices to using electronic medical records for patients. In just the United States this means a reduction of carbon dioxide emissions by about 1.7 million tons. There is also a reduction in the use of manufactured paper. For medical charts alone going electronic cuts out over a thousand tons of paper per year.
Collaborating Virtually
Technological advancements make it much easier for medical professionals to share information and conference. Meetings can be held via several types of software such as instant messaging and web conferencing. Meetings can be held by way of computers so that professionals benefit from collaborating with each other, and the environment benefits from the reduction of emissions from traveling. Sharing medical information through these means can help increase the efficiency of various employees plus give them ease of access to applications and information at any time and from anywhere. Computer conferencing for professional collaboration is one of the ways to take advantage of green information technology in healthcare.
Virtualizing Servers
This is one of the most popular ways that various organizations are turning to green healthcare technology options. Basically, it is reducing the number of servers that are being used. This reduces the medical facility's cost of physical hardware as well as the carbon footprint left by the data center. The effect on power consumption is remarkable. By eliminating one server power consumption can be reduced by about 400 watts which comes to a savings of nearly 400 dollars per year. That savings is for each server. This is a great option for the medical facility, but it also has a positive effect on the environment.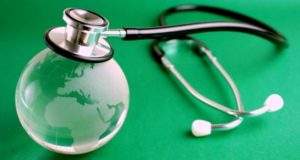 Telemedicine Options
Telemedicine is used to provide various aspects of health care from a distance. It is especially important for those who live in rural areas, or are unable to visit the clinic. This is a greener option because it can greatly reduce gas emissions. But it also helps healthcare providers be able to manage various types of chronic diseases, take better care of the elderly and even handle emergency situations proficiently. This type of technology allows for ease of communication between medical staff and patients while maintaining confidentiality. Medical information including imaging and various types of data can be transferred from one site to another with ease and convenience.
Waste management
Large hospitals generate a huge amount of waste. A lot of this waste is biodegradable. At the same time, the waste that is generated can be toxic and infectious. Waste disposal is getting a lot of attention and most hospitals get their waste disposal done through third parties and outsourced companies. At the same time, enough thought is needed to find innovative waste solutions. This will help in improving green healthcare technology solutions.
Air conditioning and electricity
Hospitals use up a lot of energy. Energy can be spent with air conditioning, lighting and using various electrical equipment. This kind of energy expenditure can be reduced by using greener sources of energy. Using solar energy or other renewable forms of energy by large hospitals can help in effective green healthcare.
Green information technology in healthcare has many benefits. The goal of reducing our carbon footprint is achieved by using these available methods while also greatly improving patient care. Medical uses of these options help cut the facility's costs, lower carbon emissions and help transfer information quicker and more efficiently.