Home care nurses
This is a new opportunity for nurses who are not into academics and only into teaching,. There is a growing opportunity for nurses to make a lot of money through this method. Of course, nursing is not about earning money, but about care given to patients. If you are a nurse and would like to supplement your income, you can work as part time Home care nurses in hospitals, but like most hospitals, the income from such a job is lesser. On the hand, working as a freelance nurse is likely to pay you more. In fact, there are some freelance nurses who work part time and earn more than a regular nurse who works full time. Of course, if you work as a full time regular nurse, there is a job security that is not available when you work as a freelance nurse.
What is the role of a freelance nurse?
Though a freelance nurse may have lesser job security and is likely to earn lesser than a regular nurse, the freelance nurse has a wide scope of operation. For example, the nurse will be able to work according to her timings and will be able to work in a home setting or even in a clinic catering to patients. Old age homes and hospices also appoint freelance nurses.
A simple example is the care that is required for a head injury patient. The head injury can require long term care, based on the extent of damage to the brain. In such situations, the nurse may have to perform suctioning, dressings of any wounds and also measure the blood pressure and other vitals on a regular basis. Head injury patients will require acute care in the hospital. But the long term care can be done at home with the help of a nurse and / or a physiotherapist.
What does the regulatory body say about freelance nurses?
There is hardly any mention about freelance nursing by Indian Nursing Council. That said, it is important to note that when you are a freelance nurse, you are not working on your own. In fact, you are carrying out the prescribed care for a patient, right in the patients' home or in a small clinic. There are several instances when patients who are bed ridden need some nursing care. At times, people use the help of untrained nurses who are not qualified. This can end in tragic situations. To help a loved family member to get through serious sickness that needs long term care at home. Nurses can be appointed to perform specific procedures like suctioning, dressings and other such procedures. These procedures can be carried out by a qualified nurse without any regulatory problems.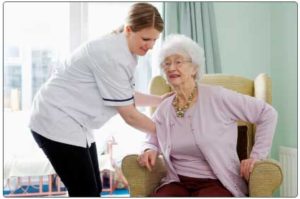 What is the pay for freelance nurses?
The sky is the limit for the freelance Home care nurses, as far as the pay is concerned. The minimum fees that are charged by a nurse could be about Rs.300 per hour in small cities. In larger cities, it could be even about Rs.2000 for a full day's work or more. This could mean that the nurse is able to earn about 1 lakh per month or more by working part time or as a freelancer.
Advantages of freelance nursing for patients and nurses.
Both the patient as well as the Home care nurses gain when the nurse works as a freelancer. The nurse is able to work according to her timings and earn a reasonable salary. She can adjust her work timings, which is not possible with a regular job. The patient gains because they are able to save up on the hospital cost. The hospital cost would include the consultant fees, the bed charges, other charges as well. It also helps the patient by avoiding the hassle of being in the hospital. This prevents family members from having to rush between home and the hospital.
Which health conditions require homecare?
There are several health conditions that may require home care. Some of the health conditions where home care nurses and other professionals visit the home of sick patients are listed here.
1. Chronic illness: There are several chronic illnesses that make a person to become bed ridden. It could be for a short time or it could be for longer periods of time, sometimes permanently. Any bed ridden patient may need hospitalization. But, the advent of home care treatment with high quality professionals has reduced this need.
2. Post surgery illness: Surgical complications can lead to prolonged bed rest after surgeries. Such patients need adequate care for earlier rehabilitation and return to normal lifestyle. Home care nurses and home care therapy will help in reducing costs during this period of recuperation.
3. Wound care: Wounds can occur because of prolonged bed rest or also because of diseases. Whatever the cause of wounds, they may require regular dressings and treatment. Visit to the hospital each time for dressing can cost a lot of money and time. Dressings can be done professionally at home by home care nurses.
4. Old age: Many old age patients or geriatric patients as they are known may require home care. Home care nurses and also other caregivers will be able to take care of their health needs effectively. They require good nutrition and also self care for their daily needs.
Advantages of homecare
1. Saves hospital cost: The individual who is being treated at home will not need to pay any hospital bed charges and other related charges. The professional fee for the professionals talking care of the individual is the only charges that will be payable.
2. Save time: Since the treatment of a sick person is done at home, it is useful and helps to save a lot of time. Home care nurses and other home care professionals travel to the home of the sick person and this saves a lot of time for the family members of the sick person.
3. Reduced transportation: The transportation of a sick person to the hospital and back to home is usually a lot of trouble. Sick people need to be shifted to hospitals for treatment in an ambulance or a private vehicle. This involves a lot of cost, time and also effort. Home care of sick people overcomes the need for transportation and reduces cost, time taken and effort put in.
4. No Need for attendant: There will not be any need for an attendant to the sick person. Usually, a sick person is accompanied by one or two people to the hospital and this is overcome with the homecare.
5. Added comfort: Usually, a visit to the hospital makes a normal person to have palpitations! Sick people may find it difficult to cope in new surroundings. The treatment done by home care companies helps add to the comfort of the patient, as they are in familiar surroundings.
Will an insurance company reimburse costs of freelance nursing care?
As of now, the chances of insurance companies reimbursing freelance nursing care are Zero. This kind of care is usually not recognized as it is still not popular. The insurance companies will only reimburse hospital costs and other diagnostic test costs and not home care nursing cost. So, Home care nurses have to be paid from your pocket.