Innovation in healthcare industry
The Government of India has placed a great deal of importance on innovation. Innovation in healthcare is a booming field. There are many hundreds of companies investing billions of dollars in various medical devices. These innovative medical devices are able to do the following:
1. Make the patient comfortable by providing easy therapy.
2. Reduces the cost of treatment and even provides affordable healthcare
3. Reduces the time taken for a treatment
4. Improves the quality of life of the patient.
There are also other ways in which innovative medical devices are able to help patients.
Top Innovations in healthcare industry
1. 3-D printing technology: Google has created a method in which 3-D printing can be used for various healthcare innovations. Some of the key innovations include the use of this 3-dimensional printing technology. This technology is used for creating unique customized orthotic devices for patients requiring them. The same technology has also been used in the creation of various prosthetic devices.
2. Use of mobile applications: There are hundreds of innovations in the use of mobile applications, or apps as they are known. These apps are used in the improvement of health of people. Some apps monitor the blood pressure of an individual. Other apps help in the monitoring of the fetal health in pregnant women. There are also other kinds of apps that help improve health of people.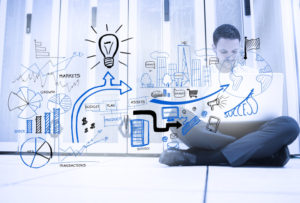 Top innovation in healthcare education
There is also innovation in health care education with the use of latest technology. The traditional methods of teaching in health colleges are not in vogue. The new methods of teaching include the use of mobile devices. These devices help the student to learn about health problems in real time. The student is able to understand all about the various diseases by reading about it. She is also able to view health problems in patients through Youtube and other social media like Facebook.
Innovation in nursing
Nursing is a profession that is considered to be traditional. It is thought to be immune to changes around the world in terms of technological advancements. The truth is far from this. The nursing profession has embraced change in technologies by becoming a part of these changes. The use of various devices in patient care and monitoring is well known. Computers are used in various aspects of patient care by nurses. Nurses also help in the creation of customized software. These are also being used in monitoring and treatment of patients like those in ICU.
Nursing education is embracing technology like e-learning, remote learning and the use of simulators. Each of these methods helps in better understanding to the learner. It also provides additional skills that cannot be otherwise obtained.