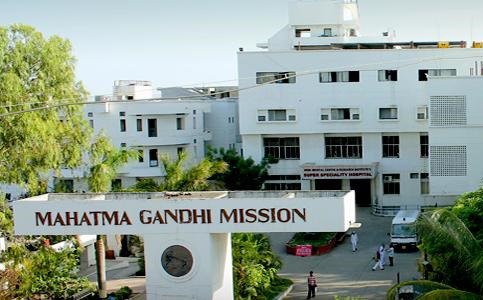 Mahatma Gandhi Mission College of Nursing
– About the college
The College of Nursing is part of Mahatma Gandhi Mission Trust. The trust aims to bring intellectual awakening and transformation in educational, economic, social and cultural field. The college was established in 2003. It prepares nurses not only for professional excellence. But they also produce nurses who will be good community participants. The graduates of College of Nursing are expected to provide holistic care to clients in variety of settings
-Affiliated university
Maharashtra University of Health Sciences
Recognized by the Indian Nursing Council & the Maharashtra Nursing Council
-College address with Pincode / Phone / Fax/ Email
MGM Educational Campus,
Sector 18, Kamothe,
Navi Mumbai 410209
Phone: 022-27431783
Fax No : 022-27431783
Email: mgm_con@yahoo.co.in
– Management
Mahatma Gandhi Mission Trust
Hospital attachments for practice
MGM group of hospitals at Kamothe, Vashi, Kalamboli, CBD Belapur
– Courses available
B.Sc (Nursing) – 4 years
– Intake in Each course
B.Sc (Nursing) – 30 seats
– Eligibility criteria
Eligibility for B.Sc. (Nursing)
a) not less than 17 years as by last day of the year of admission.
b) Medically fit (Both physically and mentally fit)
c) Pass in 10+2 or equivalent with English, Physics, Chemistry, Biology or Physics, Chemistry, Botany & Zoology, with 45% marks in each subject
d) Pass in The common Entrance Test
Application process
There is a common Entrance test conducted by the trust. Candidates who pass the exam will be provided seats in the institute, based on merit.
Important dates:
Last date for submitting applications: Middle of April
Common Entrance exam : Middle of May
Admission is based on
1. Entrance test
2. Medical fitness
– Test guidance / Selection Process for all courses
The selection of candidates is only based on a written test and interview that will be held with multiple choice Questions. The questions will be based on the qualifying exam. For example, for DGNM and for BSc(N) courses, the questions will be from the 12th standard Physics/Chemistry/Biology/ General knowledge/ English subjects.
Fee Structure
BSc(Nursing) – Rs.71,919 per annum
Hostel fees: Rs.40,000 per year (includes Rs.10,000 refundable deposit)
Mess Fess : Rs. 2200 per month.
Scholarships
There is no information about scholarship in this college.
– Special information – Library / Labs
Library: The Library has separate Reading Rooms for Journal Section and other books. There are facilities for Internet browsing too.
Labs: There are laboratories for Anatomy as well as Nutrition and Fundamentals of Nursing.
– Faculty
There are 15 full time faculty in the college. This includes 3 professors, 9 lecturers and 3 clinical instructors / tutors. The faculty are excellent and provide adequate coaching and soft skills to the students.
– Hostel / Lodging facilities
The hostel facility is available to candidates who desire to stay there. Hostel is not compulsory for students. There are only 25 seats for girls and 5 for boys. So, hostel accommodation is provided to those who ask for it first.
– Placements
All the graduates are placed in good jobs with high remuneration. Many alumni have been recruited into various government hospitals and corporate hospitals all over the country.
Admissions 2015
If you would like to join this college, you can apply through the common admission process of the Maharashtra government. The other option for a student is to approach the college authorities for a management seat. The college has a management quota and there are some seats available under this quota. If the seats from the government quota does not get filled under any special or reserved categories, the college administration can fill the seats through the management quota. Have you not been able to get admission in any other nursing college? Would you like to study in the MGM College of Nursing? You can enter through the management quota easily.