SP Fort College of Nursing
About the college
The SP Fort College of Nursing, Thiruvananthapuram / Trivandrum is a popular college in the capital city of Kerala. Since the institution provides high quality of education, it is probably considered to be the best college of nursing in the city. The college is part of the SP Fort hospital, Thiruvananthapuram / Trivandrum. The college if attached to the famous SP Fort hospital, a multi disciplinary super speciality hospital. This makes it possible for the students of the nursing college to obtain adequate exposure to various kinds of patients in different healthcare specialties. The SP Fort College of Nursing runs nursing courses at the Bachelors level with 40 seats. The institute is one of the many in Thiruvananthapuram / Trivandrum that provides excellent training to the students.
Affiliations to the councils
The college is recognized by Govt. of Kerala and approved by Indian Nursing Council, New Delhi (File No.02/Jul/2011 dated 20/7/2011),
Affiliation to Kerala Nurses and Midwives Council, Thiruvananthapuram (No.G.4567/2011/NC dated 05/8/2011)
University affiliation : The institution is affiliated to Kerala University of Health Science, Thrissur, Kerala (No.12/4310/AC.1/2/2010 dated 6/8/2011)
-College address with Pincode / Phone / Fax/ Email
SP Fort College of Nursing,
SP Fort College Of Nursing
J.P Nagar, Vallakkadavu P.O,
Trivandrum – 695008
Telephone & Fax Number – 0471 2575010
Email: spfortcollege@gmail.com, nursing@spfort.com, principal@spfort.com
– Management
SP Fort hospital, Thiruvananthapuram / Trivandrum
Hospital attachments for practice
SP Fort hospital, a multi disciplinary super speciality hospital
– Courses available
B.Sc (Nursing) – 4 years
– Intake in Each course
B.Sc (Nursing) – 40 seats
– Eligibility criteria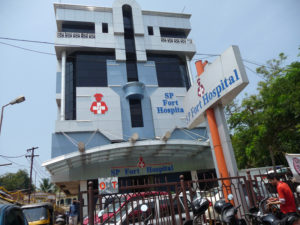 Eligibility for B.Sc. (Nursing)
1. Only medically fit candidates are admitted.
2. Candidates should have passed HSC or equivalent examination with an aggregate of 50% in Physics, Chemistry, Biology and English
3. Should have completed 17 years of age as on 31st December of the admission year.
Steps in admission for regular Indian Citizens:
1. Payment for Rs.500 at SP Fort hospital
2. Obtain application form and fill it in.
3. Sign the application and submit it with required documents.
Documents to be submitted with application form are:
1. Age proof certificate
2. Qualifying exam certificate (Both 1 & 2 can be same also)
3. Pass Certificate.
4. Transfer Certificate.
5. Course and conduct certificate.
6. Community certificate (in case of desired communities).
7. Income certificate (in case of desired candidates).
8. Migration certificate (in case applicable).
9. Five recent passport size color photos.
Important Dates for admission Process
Directly contact the institution for all Management quota seats.
For admission through the government quota, contact the government office, during July of the year of admission.
Fee Structure (per year)
B.Sc (Nursing) – As fixed by the Kerala government. It is subject to change every year.
Scholarships & Education Loan Facility :
Educational Loan Facility
The institution provides bonafide certificates to students with which the candidate can apply for loan from banks.
– Special information – Library / Labs at SP Fort College of Nursing
The SP Fort College of Nursing is considered one of the Top Nursing College in Thiruvananthapuram / Trivandrum because of the following facilities and excellent faculty.
Library: There is a separate library for the college of nursing students with many books. There are many bound volumes of national and international journals.
Labs: There are laboratories for Anatomy as well as Nutrition and Fundamentals of Nursing. All the other laboratory requirements as per the Indian nursing council are available in the college of nursing.
– Hostel / Lodging facilities
The hostel facility is available only for girls who desire to stay there. Hostel is not compulsory for students. Those who stay in the hostel have to abide by the strict rules and regulations of the institution.
Other unique features of the SP Fort College of Nursing
• Medical check-up
• Induction program for the new students
• Regular Parent Teacher interaction
• Personality Development Classes
• Anti-ragging programmes
• Guidance & counseling cell
• Staff Development Programmes
• Regular examinations and continuous assessments
If you would like to obtain admission in the SP Fort College of Nursing, you can contact us. We will also be able to guide you through the process of admission. For more details on the college or on any other College of nursing in Kerala, please contact us. You can check out the list of nursing colleges in Kerala too.