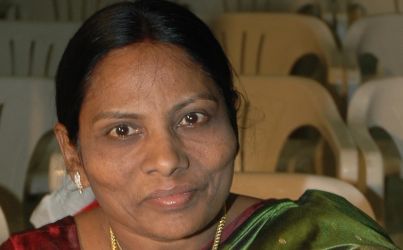 Dr.Sundari Edwin., Registered Nurse with a doctorate in Pediatric Nursing. She is the Nursing Director in SRM Institute of Medical Sciences Super specialty hospital at Chennai. Dr.Sundari is an inspiration to many young nurses from around the country. She has been awarded the Best Teacher award by Abha teaching hospital, Saudi Arabia in 2001. Also, she has been awarded Best teacher award by TN DR MGR Medical University in 2011. Other awards include the All India nursing excellence award by GS3 in 2007. The Best Nursing excellence in service International Nurses day award by Kalvi sudar- 2011. A true inspiration to young nurses from all over the world.
Dr Sundari Edwin was born in a remote village in rural India in the year 1954. Those were the days when India was starting to savor its freedom. There were a lot of ills in the society including discrimination of women in the educational field. It was a struggle for my parents to put me through school. The fact that I had 2 elder sisters and 2 younger brothers made it more difficult. Of my siblings, one sister and one brother were affected by Polio at a very early age. Somehow, caring for them made me want to become a nurse.
It was 1973 and I first set foot in Christian Medical College, Vellore as a Diploma student in nursing. I had by then completing my schooling and hardly knew any English. The tall imposing buildings of the famous hospital made me think twice if I had made the right decision. I felt like a fish out of water. I was a diminutive village girl. But, I was proud to have entered the portals of one of the famous hospitals in the world.
My career choice was the only thing that I had fixed firmly in my mind. I wanted to serve the people who were disabled, like my siblings. Other than that, I also wanted to ensure that I had a regular income to help support others in my family. Within the first year of joining the Diploma in Nursing course, my father passed away in my native village. Though I was devastated, it only steeled my resolve to become a good nurse. I wanted to help other people who were sick. The nursing course was the way I could enter into a whole new world of helping and serving people.
I heard about the commitment of Florence Nightingale, who was a nurse who helped thousands of people. To become like her was my dream, which I think is also the dream of most nurses. I completed my Diploma in Nursing Education in three years, in the year 1975. I was appointed as a staff nurse in the Pediatric ward of CMC hospital. I worked in the wards for 5 years.
Mrs. Ann Sukumar motivated me to join for the Post Certificate BSc course in Nursing. She was my mentor and I joined the course due to her motivation in 1981. This course is for Diploma holders in nursing to get a Bachelors degree in nursing. My colleagues and family egged me on to complete this course. I was married to Edwin in 1981 and my first daughter Deena was born in 1982. In 1983 I completed the course. Since I was a degree holder, I was made a ward sister in charge of the Pediatric medical ward. The fact that I obtained a degree was like a magic potion. It made me want to reach the pinnacles of the Nursing profession.
By then my desire to further become qualified had become a burning fire. I applied for the MSc (Pediatric nursing) programme and got through the exams with flying colours. Though it was hectic to manage time between my family and the studies, it was a challenge that I wanted to face head on. I was able to juggle between taking care of my two girls (my second daughter Leena was born in 1985), my extended family and also my studies.  It was a proud moment when I was declared the best outgoing candidate in the MSc (Pediatric nursing) programme for that year.
A new phase in my life had started. Now, I was a nurse who had specialized in Pediatrics. I wanted to take care of all the little angels who came to my ward. I was in tears at times when some of the little angels passed away. But, I thanked God each day for the amazing strength he provided me to take care of all the small children who were in the Pediatric wards of the hospital.
Along with the responsibility of the wards, I was also able to take up teaching responsibilities. I started taking classes for the Diploma as well as Graduate students. Over time, I was promoted and I was also given more administrative responsibilities. I was promoted as a Deputy nursing superintendent and then in 2006 I became the Nursing superintendent for the whole hospital! The huge hospital had more than 3000 beds and more than 5000 out patients visited the hospital each day. Though there were a few administrative problems at times, I was able to handle all these problems with the skills I had learnt as a student and as a nurse. By then, I also became Professor & Head of the Pediatric nursing department. I was called upon by the Indian Nursing council to be a part of their GFATM programme.
Through all these achievements and laurels I received, I still wanted one more thing and that was to complete my Doctorate in Nursing. I was in a responsible position, as Nursing superintendent of a 3000 bedded hospital, with little time for anything else. In spite of this, I registered for my PhD in 2009 and started working towards this degree in all the spare time I was able to get, which wasn't much. I was 60 when I retired from CMC hospital, Vellore in January 2014. Even after my retirement, I worked towards my PhD and was awarded my Doctorate in July 2014.
In February 2014, I was offered a position as Director of Nursing in SRM Institute of Medical Sciences Super specialty hospital at Vadapalani, Chennai. This was a new role I was able to don with equal ease and am continuing in the position as Nursing Director in SIMS Hospital.
My role in SIMS hospital, Vadapalani, Chennai
It has been a pleasure to work in a Corporate hospital in Chennai. The work atmosphere is very intense and challenging. There was a need to recruit nurses from different institutions to the hospital. The hospital has grown from strength to strength in the last few years. It is a super specialty hospital with good infrastructure. It is catering to the acute needs of hundreds of patients from Chennai, Tamil Nadu and even from other countries. Many international patients come here for their treatment. We have been able to provide excellent nursing support to the institution.
From a village girl to Nursing Director
When I look back at my life, even I am amazed at the path my career has taken. From a village girl to a young Nursing graduate and from entering Pediatric nursing course to holding a doctorate in Pediatric Nursing, I was able to reach the zenith of education. From a staff nurse to a Director of nursing, I was able to reach the pinnacle of my career. I have been able to achieve all my financial goals that I had ever dreamt of.
All my achievements, I want to surrender to the Grace of God and to the profession I hold dear to my heart, which is the Nursing profession. I hope that my story would help many young girls to achieve what they strive out to achieve ..a contented life with a good career. Before I end the interview, I would like to also mention that my daughter Deena has followed my footsteps and is now a Lecturer in Pediatric nursing Department of CMC Hospital.
(As narrated by Dr.Sundari to David Prakash, Advisor / Co founder NurseABC.com)
https://social.technet.microsoft.com/Profile/Collection%20Agency
Another interesting read on LinkedIn
https://www.linkedin.com/company/nexa-collect