Kokilaben Dhirubhai Ambani Nursing College
About the college
The Kokilaben Dhirubhai Ambani Nursing College, also called as the KDA Nursing College is located at Kokilaben Dhirubhai Ambani Hospital in Andheri (W) in the western zone of Mumbai. The institute has two undergraduate programs in nursing and is seeking to extend their educational avenues into post graduate courses and other fellowship courses. Teaching in KDA Nursing College is based on four dimensions of 'Educative Process' such as
Substantive Dimension (Curriculum)
Procedural Dimension (for teacher, learner and group of learners)
Environmental Dimensions (Physical & Social factors affecting teaching and learning)
Human Relations between Teacher learner, Administrator, Nursing service staff, Team Members and patients.
Affiliated university
Maharashtra University of Health Sciences, Nashik
Recognized by the Indian Nursing Council and Maharashtra State nursing Council
College address with Pincode / Phone / Fax/ Email
KDA Nursing College
C/o. Kokilaben Hospital
Four Bungalows, Andheri (W)
Mumbai- 53
Phone: 022 30970743 / 022 30970744
Fax: 022 -30972030
Email: kdahnursing.college@relianceada.com
Management
Kokilaben Dhirubhai Ambani Trust
Hospital attachments for practice
Kokilaben Dhirubhai Ambani Hospital, a multi-speciality hospital
Courses available
B.Sc (Nursing) – 4 years
Post Basic B.Sc (Nursing) – 2 years
– Intake in Each course
B.Sc (Nursing) – 40 seats
Post Basic B.Sc (Nursing)– 30 seats
Eligibility criteria
Eligibility for B.Sc. (Nursing)
a) not less than 17 years on or before 31st Dec. of the year of admission.
b) Medically fit
c) Pass in 10+2 or equivalent with English, Physics, Chemistry, Biology or Physics, Chemistry, Botany & Zoology, with 45% marks in each subject (40% for reservation candidates)
d) Pass in the CET because admission is through the AMUPMDC ( Association of Managements of Unaided Private Medical Dental Colleges)
E) Only female candidates
Eligibility for Post Basic B.Sc. (Nursing)
Pass in DGNM with minimum 1 year work experience.
.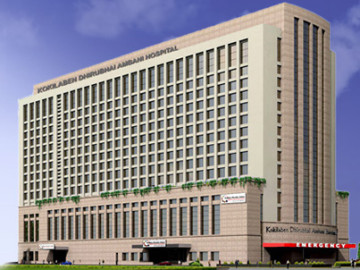 Application process
Admission is through the AMUPMDC ( Association of Managements of Unaided Private Medical Dental Colleges). The application for the course can be obtained from the Kokilaben Dhirubhai Ambani Hospital or the prospectus can be directly downloaded from the website of the institution.
Important dates:
Last date for submitting applications: Middle of April
Common Entrance exam : Middle of May
Admission in Kokilaben Dhirubhai Ambani Nursing College is based on
1. Entrance test
2. Medical fitness
Test guidance / Selection Process for all courses at Kokilaben Dhirubhai Ambani Nursing College
The selection of candidates is only based on a written test that will be held by the competent authorities. The questions will be based on the qualifying exam. For example, for DGNM and for BSc(N) courses, the questions will be from the 12th standard Physics/Chemistry/Biology/ General knowledge/ English subjects.
Fee Structure
The college does not provide any fee details as such until admission is obtained.
Scholarships
Students can avail other scholarships such as Sir Ratan Tata Scholarship.
Other state and central government scholarships can be availed by meritorious students and those who obtain admission under the reservation categories.
Special information – Library / Labs
Library: K D A Nursing College Library and Learning resource center comprises of Reading Rooms, Journal Section. It has an excellent collection of text & reference books, audio-video material, films, charts, professional journal and Magazines. The center is fully air conditioned and Wi – Fi enabled. It is located over an area of 3000 square feet.
Labs: The laboratories for Anatomy (900 sq.ft area), Nutrition (900 sq.ft area), Fundamentals of Nursing(900 sq.ft area), Maternal Nursing (900 sq.ft area), Child Health Nursing (900 sq.ft area), Community Health Nursing (900 sq.ft area), Maternity Nursing (900 sq.ft area), are available in the institution.
Faculty
There are 13 full time faculty in the college. This includes 3 professors, 3 lecturers and 7 clinical instructors / tutors. The faculty are excellent and provide adequate coaching and soft skills to the students. Excellent AV aids are used by the faculty in their teaching.
Hostel / Lodging facilities
Hostel accommodation is not compulsory and is provided on a first come first serve basis. 224 bedded hostel for students is located at Mahadev Apartment, Thakur Village, Kandivali (E), approximately 13 kms away. Adequate transport is provided to the students from the hospital campus to the hostel. The hostel is state of the art with all the latest amenities and facilities. There is a visitors room and also a first aid room for use. There is a separate study room for students to have a good learning environment. The hostels are safe and secure for the girls who stay in it.
If you are planning to join this college, but have come from places outside Mumbai, hostel is not compulsory. There are flats on shared accommodation as well as working women's hostel available in Mumbai. You can also opt to stay in these places, instead of the hostel.
Achievements of Kokilaben Dhirubhai Ambani Nursing College
There are many achievements by this institution. Some of these achievements include those like being one of the very few colleges with 100% success in all classes. The institution also proudly boasts of many Distinctions and University ranks.
Placements
All the graduates are placed in well paying jobs. Some of them are recruited into the Kokilaben Dhirubhai Ambani hospital and others are recruited in various hospitals in and around the country.