Top Indian hospitals providing medical tourism
The Medical tourism industry in India is on a rapid growth path. The industry is estimated to be worth about $3.5 billion. The industry is set to double in its growth in the next 5 years. So, the industry will be worth $ 7 billion and there is no stopping the industry because of the improvement in quality healthcare. Some people may think that since the cost of treatment is lesser in India, the quality may be poor. But, the truth is that the best quality care is being provided at a very affordable cost. Usually, the cost of treatment in India is about one tenth of the cost of the same procedure in US.
Countries from where maximum patients arrive in India for Medical Tourism
1. USA
2. United Kingdom
3. Commonwealth of Independent states
4. Middle Eastern or Gulf countries
5. Africa
6. Russia
Top destinations in India for Medical tourists
1. National Capital Region – Delhi
2. Chennai
3. Kolkata
4. Mumbai
5. Hyderabad
6. Bengaluru
Best hospitals offering Medical Tourism in India
1. Apollo Group of hospitals
The Apollo hospital has become an unshakable brand in healthcare. The Apollo group of hospitals is well known for their quality healthcare. People from all walks of life reach the portals of Apollo hospitals for the best possible care. Excellent use of technology in healthcare has catapulted this institution into the number one place in India. Apollo group of hospitals is not only involved in patient care, but they have diversified into education and research. Based on its success in operations in its flagship hospitals, replica models have been created in other cities. It has now become an international brand with Apollo hospitals being established in many countries around the world.
The Indraprastha Apollo hospital, which is considered to be a flagship hospital, has Joint Commission International accreditation. This accreditation is the gold standard in America as well as Europe and this hospital has been able to obtain this accreditation because of one reason. It is the largest corporate hospital outside USA and this hospital has a huge success rate.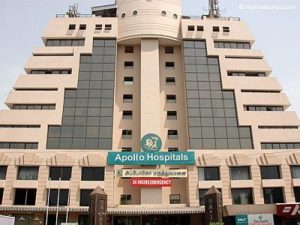 Why should you opt for your medical treatment in Apollo hospitals?
1. Pioneering hospital in medical tourism.
2. Institution boasts of many national and international affiliations.
3. Has state of the art facilities for excellent healthcare.
4. Can tackle any medical emergencies due to highly skilled professionals.
5. 49,000 cardiac surgeries have been performed with 98.5% rate of success.
6. Millions of surgeries have been performed successfully.
2. Fortis healthcare hospital
Fortis hospitals are in the second place as far as medical tourism is concerned. This group consists of 12 hospitals in the major cities of India. The total bed capacity is 1803, which is rapidly increasing. This is one of the reasons for it being one of the Top Indian hospitals providing medical tourism. Fortis healthcare boasts of the best care in Neurology, neurosurgery and Orthopedics in all of India. The other specialties are not far behind in their overall ranking in India.
There are some extremely special services provided by Fortis hospitals for their international patients.
Facilities
1. Financial services in different currencies: Unlike many hospitals, Fortis does not demand payment in Indian rupees. You will be provided an option of paying in US dollars. In fact, the hospital provides you exchange opportunity for up to $5000. Any surgical procedures are performed by payment of all the charges on admission itself. Only the incidental charges are collected at the time of discharge.
2. Insurance services: Fortis hospitals do not accept off shore insurance company policies. The hospital is ready to talk to your insurance provider to finalize the payment options. But, your insurance provider must be willing for that. All such insurance payments need to be paid in advance for any procedure to be done.
3. Travel: Fortis hospital, which is in the forefront of medical tourism in India provides travel assistance to all international patients. Transport is arranged from the airport to the hospital and also back to the airport upon discharge. To make medical tourism attractive, you will also be provided with other travel options to important tourist destinations. You can choose any of the many different packages available.
4. Other services: All medical appointments and consultations are coordinated by the staff before arrival. All the appointments go on like clockwork on your arrival in the hospital. Estimation of your expenses for various procedures is provided to you in advance to plan your finances. If you require any second opinion for your health condition, that is also arranged. All other day to day needs are also taken care of. This provides you with a wonderful holiday atmosphere, even when you are in the hospital for any planned medical procedure.
3. Max super specialty hospital, one of the Top Indian hospitals providing medical tourism
Max super specialty hospital is located in the heart of South Delhi. It is located only 10 kilometers from the Delhi airport, making it easily accessible. It is a multi specialty hospital and you will be able to consult with doctors from various specialties as part of your treatment plan. The hospital is well equipped for various critical care health treatments and emergency medical care. So, if you are rushed to a hospital for emergency treatment, Max super specialty hospital is the right place to be in. The hospital has a ICU that has 71 beds. There are also 225 beds for critically ill patients. The other facilities in this hospital are the 4 MRIs, 2 CTs and 3 cathlabs. The 20 operation theaters between the various specialties are usually working full capacity.
The hospital has many experienced and highly trained consultants in each of the specialties. They are able to provide the best possible care to all patients, national and international.
4. MIOT hospital, Chennai
The MIOT hospital at Chennai has a dedicated International patient service section. There are several upgraded patient services provided free of cost by the hospital. Some of the top features of this service by the MIOT hospitals, Chennai are as follows.
Facilities
1. Dedicated hospital care team: The hospital care team takes care of your health. If required, they will meet you at the airport too. They will provide you with pre admission care and take care of all medical needs. They also help with the post surgery care and help in follow up with your doctor.
2. Dedicated hospitality care team: They provide you with excellent hospitality. Your travel bookings, ambulance services are all arranged by this team.
3. Patient services team: This team helps to provide you with information about the hospital and services before you come here. they tell you about the type of treatment, the duration and costs involved. This team also helps you to plan your trip well in advance. You can contact this team 24 X 7 by email and through telephone. Video conferencing with your doctor is also possible in MIOT hospital, even before you come. The patient services team of MIOT hospital also helps you in obtaining a medical visa.
Other Facilities
The MIOT hospital provides a Personal Translator for those who require it. A City Guide and a Shopping Guide will be provided. Mobile phone with prepaid connection is provided to help you keep in touch with your family. You can also procure a laptop on hire with Internet. You can obtain International Newspapers and also read up from the health library. Finance and Foreign Exchange services are also provided to you by the hospital.
5. Global hospitals, Chennai and Bangalore.
Global Hospitals is a group of hospitals in major cities that helps to care and treat international patients, other than regular patients who visit the hospital. The Global hospital aims to understand the various health needs of individuals and deliver the best quality care. The patient is greeted at the airport itself and adequate care is provided from registration to discharge. The hospital provides a unique and awesome experience for each and every international guests.
The various services offered for international patients are:
Dedicated staff for helping international patients
Online consultations can be done with video calls as well as teleconference.
Approximate cost of treatment is provided before treatment.
For those who do not now English, Language interpretation services are provided.
Excellent care during hospitalization and Post discharge care
Visa assistance is provided with Airport transfers and other services
Option of staying outside hospital when it is not absolutely needed for hospitalization. Also a inhouse guest house/ serviced apartments are available
After discharge, follow-up is available to increase patient compliance
Cashless service for those who prefer card payments.
6. Lilavati hospital, Mumbai
Lilavati hospital in Mumbai is an excellent hospital that has state of the art facilities for international patients. The quality of care is top class and this is evident from the NABH accreditation provided to the hospital. All the norms that have been laid out have been followed by the hospital. Each year at least 1000 patients benefit through the services of this hospital. Each of these international patients are given excellent care. Most international patients get admitted for surgical interventions, but others are treated as out patients and also for preventive health checks.
Facilities in Lilavati hospital
Email enquiry: Any email query regarding health of individuals will be answered within a couple of days. You could send emails for specialist consultations and also for enquiry regarding services and facilities.
Estimation services: You will be able to obtain an estimate for any health services that you require. This depends on the diagnosis and the treatment plan. There could be minor variations based on diagnostic tests performed to you upon arrival at the hospital.
Visa assistance: Assistance for visa is provided by sending a letter inviting the patient and attendants for medical care. This can also be submitted in the local embassy for obtaining visa.
Accommodations: During the treatment and also for follow up, patients are given a choice of hospital accommodation. Economical accommodations and high class accommodations are available for international patients in Lilavati hospital.
Billing: Many international patients suffer because of payment issues. Payment can be made by cash or through online transfers. All Credit and debit cards  can also be used for payment of fees.
7. Jaslok Hospital, Mumbai
Jaslok hospital is well known for providing excellent and professional treatment. They are also known for the care, tenderness and compassion while treating patients. Health services and counseling is provided not only to the patient but also the family members. Various state of the art equipment are available for the diagnosis and treatment of international patients.
Facilities available at Jaslok hospital
Comfort to patients: Each and every patient is provided with good care in the best and comfortable surroundings. The rooms are air conditioned to beat the heat. Nurse call system is installed for every bed. Televisions, telephone facilities and refrigerators are provided in the hospital room. All the facilities are also upgraded at regular intervals.
Type of rooms: The international patient can choose the type of room that is required by him. They can choose a larger room so that the attendants are comfortable too.
Other facilities: Some of the other facilities include providing a translator, ambulance service as well as airport pick up. Locker facilities are available too. Local accommodation can also be provided on request in top class hotels with the existing tie ups. A local co-ordinator can also be provided for those who require full time assistance.
Other Top Indian hospitals providing medical tourism.
1. Medanta Hospitals, Gurgaon
2. Artemis hospital, Gurgaon
3. Asia Columbia group of hospitals, Bangalore. Also located in Vietnam, Malaysia and Indonesia.
4. Asian Heart Institute, Mumbai
5. Nova hospital.
6. Hiranandani hospital, Mumbai.
7. Ganga Ram hospital, Delhi.
8. Wockhardt hospitals – Mumbai, Kolkata and Bangalore
9. Kokilaben hospital, Mumbai
10. Jupiter hospital, Thane, Maharashtra
11. Narayana Hrudayalaya or Narayana Health, Bangalore.
These hospitals too provide excellent care for international patients in various cities of India. The list of Top Indian Hospitals Providing Medical Tourism does not end here, but these are the best hospitals.